Our main target is delivering quality, price and best service!
That are things you require from suppliers and we do all of them simultaneously in a perfect way.
Features
▪ Most yellowish appealing colour range available in Irania
▪ Convenient for retail consumption.
Notes
Golden raisins are produced from the grapes which is SO2 treated during drying period. We keep max SO'2 level in the final product at 300 ppm in order to maintain its texture firm till the expiry date. SO2 level above 300 ppm will lead to damages on the texture.
Specifications
Oil used : Durkex LC 200
Moisture content : 12%
SO2 : 300 ppm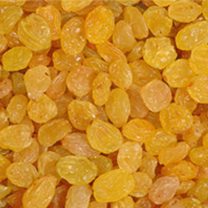 Country Of Origin:
Iran
Minimum Order:
20'FCL – 20MT
Packing Options
Carton Boxes 5/10KG
Carton Branded Boxes 5/10KG
Retail Packing
Recommended Grade:
RTU Grade
In order to get prices of product please fill the form below and write as much information as you can , this will help us to have more clear understanding to who we are going to make offer.

Any Questions ?